Wings In Flight
Grey-crowned Yellowthroat Chase ~ Feb 21st 2004.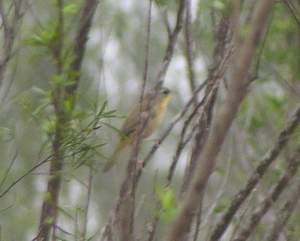 A Grey-crowned Yellowthroat had been at Sable Palm in the lower Rio Grand Valley for a couple of weeks so I left with friends on the friday night to drive down to Brownsville to see the bird first thing Saturday morning. We arrived after a 9hr drive and were at the spot promptly at 7:15am. We could hear the bird before we got to it and then had great looks as it flew on to a bush just off the trail and sang its heart out! We had excellent looks for several minutes but it slowly worked its way back into the field behind, although it was still singing. Unfortunately I was unable to get any more decent shots than the one above but you can tell what it is!
Another great bird and a fun chase with friends!
---
Back to - BirdTrips
Copyright © 2019, All rights reserved.